Employees at Makro, a wholesale company in Liverpool, recently heard an unusual sound coming from their cardboard compressor. Tiny meows begged for aid deep inside a recycling barrel. The workers immediately realized something was wrong.The company immediately phoned the RSPCA, which rushed over to assist. Vicki Brooks, an RSPCA inspector, discovered a tiny hole at one end of the shipping container, with a mama cat's face peering out.
She could hear the mom's kitten pleading for aid behind her. The mama cat seems to have gone into the container to give birth and become trapped when additional cardboard was put in. They were most likely stranded there for days without food or drink. To release the mama cat and her kitten, company staff disassembled the machine, then Brooks joined them and searched through cardboard for hours, hunting for the trapped pair.
"It was the most extraordinary rescue I have taken part in in 21 years with the RSPCA," Brooks stated in a press release. "I'm not sure how the cats survived." There was masses of cardboard piled securely up to the container's ceiling, with no place for them to move. It was quite hot, and there would have been very little air.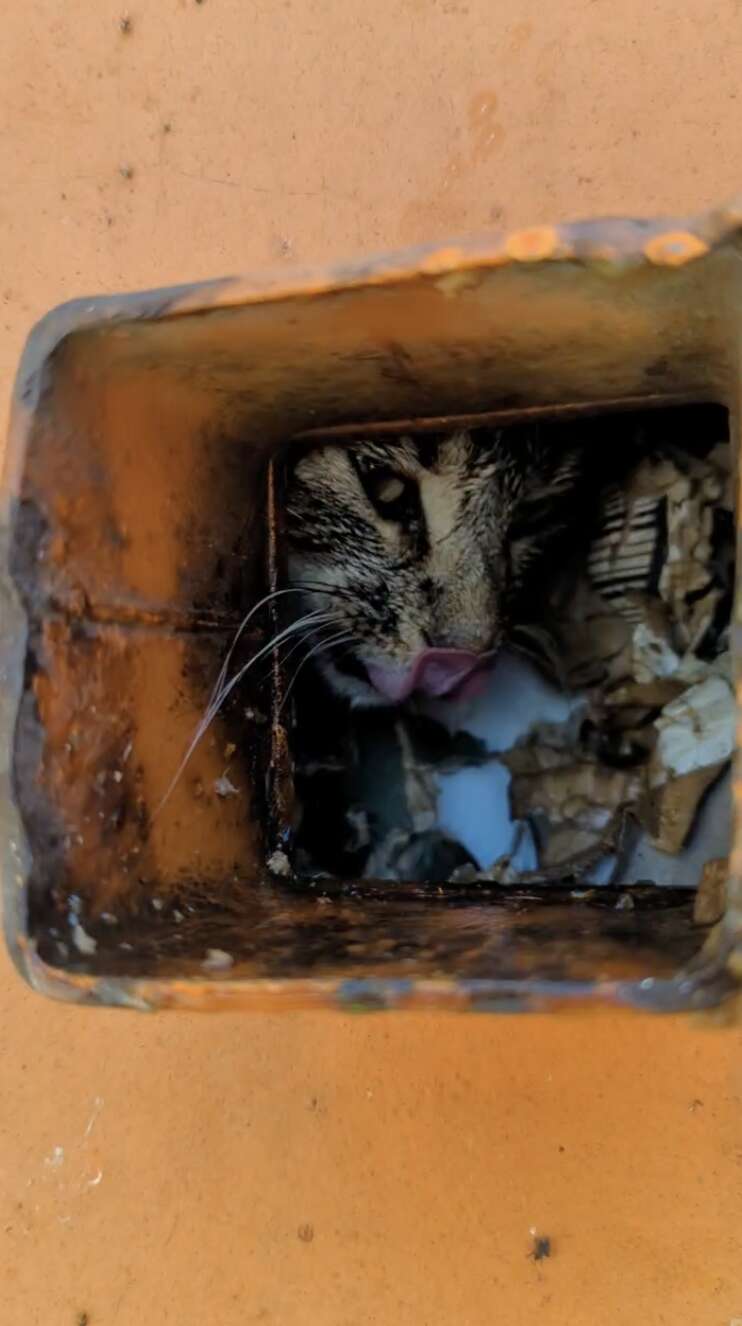 Mum had obviously not eaten in at least a couple of days, and she had been attempting to feed and care for her newborn kitten the entire time. They could have been crushed by falling cardboard or died from the heat." Despite the fact that the odds were blatantly stacked against the mother-son team, their rescuers never quit up. They were able to feed the mama cat through the little hole in the container while trying to reach her.
They worked all day and into the night, and had to quit and return the next morning. When they did, they discovered that the mama cat had managed to free herself and flee with the progress they'd made, but her kitten was still imprisoned within. It took some time and careful maneuvering, but rescuers were eventually able to reach the kitten, later named Biff, and bring him to safety. His mother had vanished by then, but RSPCA rescuers have not given up looking for her.
"We're obviously concerned about his mother, and we'll be working with another charity to try to trap her," said Joanne Macdonald, an RSPCA inspector who assisted with the rescue on day two, in a press release.Biff is now safe and secure in the care of two other orphaned kittens, Chip and Kipper. He's gone through a lot and nearly died, but he never stopped meowing for help, and today he has all the love and support he could ever want.