The horrific Indian Ocean Tsunami of 2004 washed out parts of Indonesia, Sri Lanka, India, and Thailand, making it one of the worst natural disasters of modern times. More than 200,000 lost their lives, and among the missed were two of the three Rangkuti children—a 4-year-old girl, and a 7-year-old boy.
Septi Rangkuti put his children on a wooden board to keep them from drowning as the tsunami's waves crashed across the island they called home. Despite his efforts, the young children were swept out to sea!
Following the destruction, Septi and his wife, Jamaliah, spent months looking for the missing members of their family. But as time went on, they came to terms with the fact that their son and daughter were not alive.
The Rangkutis established a "new normal." They rebuilt their lives as best as they could and raised their surviving son—cherishing each moment together. A decade had passed since the tsunami had destroyed their family when Jamaliah received a phone call from her brother-in-law.
He claimed to have seen a girl in his village who looked uncannily similar to their long-lost daughter, the one who had perished in the tsunami. He discovered that the girl he'd recognized had been orphaned following the tsunami after doing some investigation and inquiring around the neighborhood.
She was swept away by the waves more than 80 miles from home, where she was rescued from a remote island by a local fisherman. He had brought her home and reared her with his mother. The girl's name was unfamiliar, and she had limited memories of life before the tsunami, but the Rangkutis hoped it was their daughter.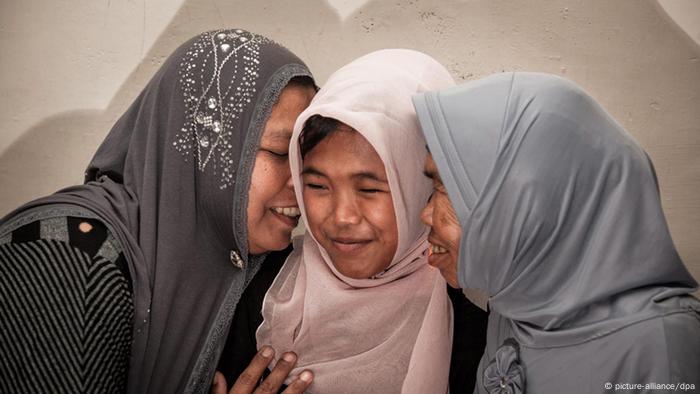 A meeting was arranged, and it was her! It was their daughter! After all of these years, a chance "spotting" on the street led part of a family back together! The 14-year-old girl moved back home with her family, and as fate would have it, the media couldn't get enough of this MIRACLE!
But through all of the attention, something even more unbelievable happened. The 7-year-old boy who had been swept away at sea with his sister was also alive! He had been homeless for some time before a kind couple welcomed him in. When they saw the picture and heard the Rangkutis story on the news,
they immediately got in touch with the family. All of the heartache, confusion, grief, and mourning—it was all replaced with unspeakable joy and overwhelming love. Isn't that such a testament to the miracle of Jesus Christ? No matter what our circumstance, what has happened to us, who we've lost, and who we've found, with Jesus, everything is made new. Everything is re-written, and everyone gets a second chance.
SO much joy for this beautiful family's second chance, and the love that carried them through a decade of missing one another. Source:https://faithit.com/