or the holiday season, Richard Brown has only one decoration: a green stocking. It's not because Brown hates the holidays. It's because when you live in 165 square feet of usable space, you get selective about your possessions!
But Brown's tiny house isn't bare; colorful, contemporary prints adorn the walls, a shelf holds a diverse collection of books that includes Wood Pallet Projects and Men Are From Mars, Women Are From Venus, and a little pillow that says "home sweet (little) home" beckons visitors to sit down in the Ikea-style chair.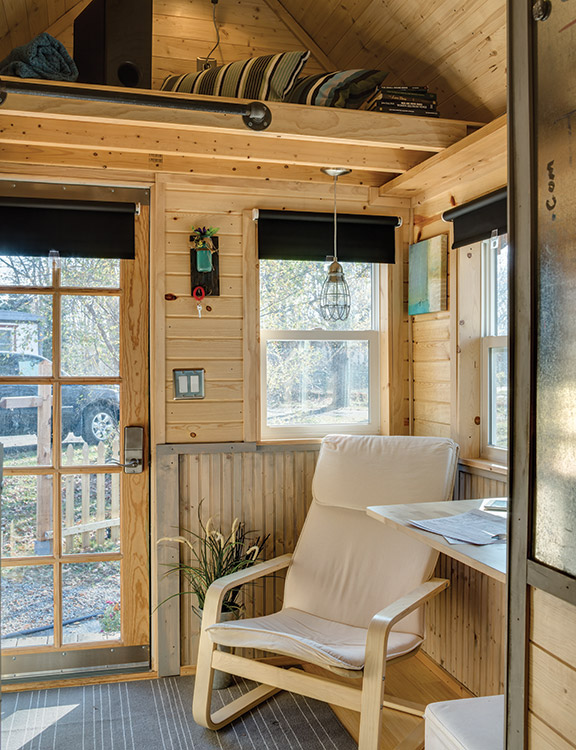 Before he downsized his possessions to the essentials, Brown had a typical suburban life, living in a conventional 1,200-square-foot house in Southfield. But after some life-changing events including the end of a relationship, it was time to figure out next steps. For a year and a half, he weighed his options. Get an apartment or condo? Rehab a house?
But as he did more research, he kept seeing tiny houses, "which made sense," he says. He learned how to build from a custom homebuilder in Colorado, then started building in his parents' driveway in Plymouth. After the house was done, he moved to Whitmore Lake, where he's lived for two years. Jonathan Bellows' tiny house brings him a lot of pride — and a lot of heartache.
The former Flint resident began building his 130-square-foot tiny house in 2009 on his sister's property in Flint. It took him about a year to build the home and he lived on his sister's land for a while. But then his sister sold the house so he had to move. For a while he was "squatting" at his uncle's property, but then the uncle sold the house, forcing him to move again.
He started going to town hall meetings to get approval to put his tiny house on a permanent site and kept hitting roadblocks. There was no way to do it legally in southeast Michigan, he says. He then focused his efforts on finding wooded property where he could put his house, and where it would be difficult to spot from the road. He purchased 4 acres of land and moved the house there.
"I knew full well what I was doing," he says of putting his house on the land even though it wasn't technically legal, adding that "there is just no legal pathway" to having a tiny house in southeast Michigan. But he was committed to his home.
He moved his house to his new property in September 2011. In January 2012 he came home one day and found a sticker from the township, he recalls. Bellows called the township and was informed that he couldn't live in the house, which was deemed an illegal dwelling.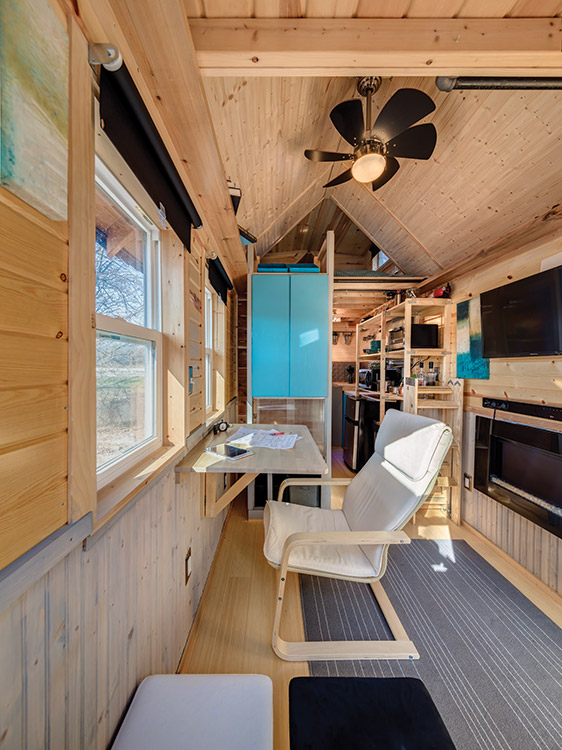 If someone was still living there in 30 days, it would be taken away. He moved to Oregon and left the house behind. "It was heartbreaking to leave," Bellows says, his voice heavy with emotion as he describes feelings of relief and sadness over the situation. The structure sat vacant for a few years until a couple recently bought it, and they moved the tiny house to their property "somewhere in Ann Arbor."
Three years after Bellows had his zoning issues, Roberts finds herself facing the same barriers as she seeks to build her tiny house in metro Detroit, saying the biggest legal challenge she has encountered has been the minimum square footage. She's contacted several communities, including Rochester, Richmond, and Capac, all of which have minimum square footage requirements ranging from 800 to 1,000. Roberts adds if there was a way around this aspect, building a tiny house would be "smooth sailing."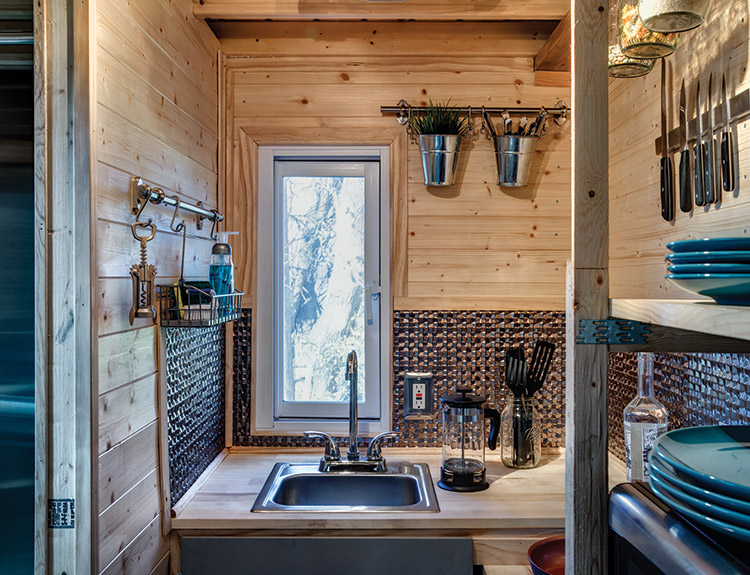 Hour Detroit discovered that there aren't many restrictions on the books specific to tiny houses after looking into the codes of several local governments. The zoning rule in Troy prohibits tiny dwellings from being built in any single-family area. According to Troy Planning Director Brent Savidant, zoning districts have minimum standards for lot size and floor area per unit.
"For example, the R-1A district requires a lot area of at least 21,780 square feet and a minimum floor area of 1,400 square feet. The reason for this is to ensure consistency and compatibility and protect property values in residential neighborhoods," he says.
"Imagine a residential neighborhood with an average home size of 2,000-square-foot homes, (then) suddenly having a tiny house that is 90 percent smaller than every other home in the neighborhood. It would look out of place and potentially detract from the character of the neighborhood, as well as potentially reduce property values of neighboring homes."
Troy isn't a part of "the tiny-house discussion merely because of economics," according to Savidant. Tiny dwellings are more common in rural locations, because land is less expensive." The city of Ann Arbor has been the epicenter of southeast Michigan's tiny house movement. In June, the Ann Arbor Municipal Council passed a resolution instructing city staff to provide advice on the viability and legality of tiny homes in the city.
Stephen Kunselman, a former Ann Arbor councilman whose term ended in November, sponsored the resolution in June after efforts to build a tiny-house community on city property fell through after safety concerns were raised. The goal of the resolution was "to try to dispel a lot of misinformation and misconception on what tiny houses are,"
"I can build my fantasy tiny house and put it on a piece of land within the city borders," Kunselman says, "without knowing that we have zoning restrictions that require particular size lots or specific size structures," he adds.
Brown discovered the ideal layout in the mobile park neighborhood where his two tiny houses are located (one is a model home for sale) before settling in Whitmore Lake.